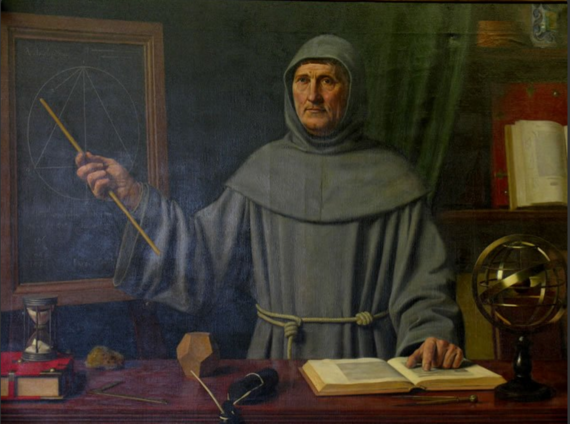 Mathew Parr explains how double entry bookkeeping can help us to interpret nature and natural systems
This article has been submitted as part of the Natural Capital Coalition's series of blogs on natural capital by Mathew Parr, senior advisor on natural capital, IUCN Netherlands.
We take our current system of numbers, counting and mathematics for granted. They are an integral part of our everyday lives: essential in the workings of our modern technology; indispensable in running our global economy; central to our understanding of the environment.
Up until only a few hundred years ago though, we used a completely different system to count and calculate: using counters and Roman numerals. It wasn't until an unlikely group of savvy merchants in Florence saw the benefits of what was then known as Hindu-Arabic 'abbaco' mathematics, that things started, very slowly, to change.
Over the 14th and 15th centuries, they embraced and studied this new system, using the now familiar numerals 0-9 in addition, subtraction, multiplication and division, and put it to use in what they called "the expression in writing of the arrangement of [their] affairs."
This 'expression in writing' has become known as double entry bookkeeping, and was perfected by Luca Pacioli, a Franciscan monk born near Florence, Italy, in the 1440s. In 1494 he published the first treatise on double entry bookkeeping, a record keeping system under which every business transaction is recorded in at least two accounts: debit entries on the left and credit entries on the right. As Jane Gleeson-White writes in her wonderful little book on the history of finance and accounting, double entry bookkeeping became the cornerstone governing our global economy and every business which operates therein.
By virtue of this innovation, the merchants became some of the wealthiest and most educated in Europe, unleashing first a cultural revolution (modern financing and, to some extent, the Renaissance), and subsequently, a scientific and industrial revolution. While they lived a life of wealth and extravagance in Italy, scientists in Western Europe were busy experimenting with these new numbers and equations, and applying them in order to chronicle and interpret the natural world.
For these scientists, numbers become an essential tool. Early conservationists like John Muir, although renowned for their written prose on the beauty of nature, also measured and calculated many aspects of the natural world.
Darwin, while a reluctant mathematician, wrote towards the end of his life that he wished he had learned the basic principles of math, "for men thus endowed seem to have an extra sense." Today, numbers, math, and statistics are essential in how we describe and study the status and trends of our global species, ecosystems, habitats and environment, without them projects like the IUCN Red List would be impossible.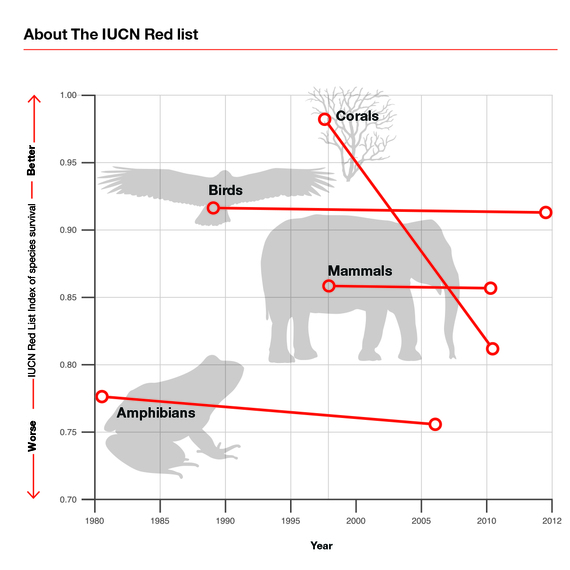 For most of their history, market economists and conservation ecologists have not bothered each other much. The economists observed and produced economic theories, and measured production and consumption of goods and services in the market place. The ecologists observed and produced ecological theories, and measured the interaction of living organisms with their environments. However, both economists and ecologists have, over time, come to recognize that neither approach produces a complete picture. Our failure to achieve a unified understanding is leading to inefficient and destructive decisions, which ultimately benefit neither the economy nor the environment.
Every economic enterprise fundamentally depends in some way on the natural world. Any measurement or account of economic activity – from a cost-benefit analysis, to a company account, and all the way to measuring GDP itself – should therefore include nature. Failing to do so creates blind spots in identifying economic and corporate risk and opportunity.
Correspondingly, no ecosystem exists that has not been affected or altered by economic activities in some sense. This relationship, when poorly understood and managed, leads to a vicious circle of environmental degradation and economic instability. Any attempt to maintain ecological integrity and diversity in the 21st century then, must therefore include recourse to economics and economic actors, just as any attempt to maintain economic stability and prosperity must recourse to ecology and ecological actors.
Fortunately, as in 1494, 2016 could be a watershed moment; the year when business and conservation comes together to collaborate in a constructive, systematic way to account for natural capital alongside traditional measurements of financial capital. This will undoubtedly lead to better, more informed decisions that will benefit us all.
A number of initiatives are at the forefront this next revolution. One of these is the Natural Capital Coalition, which brings together leading initiatives and organizations under a common vision of a world where business conserves and enhances natural capital. In July of this year, the Coalition will launch the world's first Natural Capital Protocol, a framework for businesses to identify, measure and value their impacts and dependencies on natural capital, and generate trusted, credible, and actionable information to inform better decisions in business.
While he was alive, Luca Pacioli realized how vital it is for businesses to express their values in numbers. If he were alive today, he would surely see the benefit of such a framework to help business – across all geographies and sectors – express, in writing, the "arrangement of [their] affairs" with regard to nature.
Disclaimer: Articles in this series are submitted by people who work in organizations who are part of the Natural Capital Coalition, or people who are involved in the natural capital space more generally, the views expressed here do not necessarily represent the views of The Natural Capital Coalition, other Coalition organizations, or the organization that employs the author.
Follow Mathew Parr on Twitter: @MathewMasseyP
Keep up to date with IUCN NL on Twitter: @IUCNNL
Keep up to date with IUCN on twitter: @IUCN
Mathew is the Senior Advisor Natural Capital at IUCN Netherlands, overseeing and advising projects on both natural capital for business and development. This includes their work engaging corporates and testing of the Natural Capital Protocol, as well as ecosystem valuation studies in the tropics, where he is currently overseeing a large valuation study of Atewa Forest Reserve in Ghana. Prior to IUCN NL Mathew spent several years in Vietnam working on national park management and social forestry. Mathew holds an MSc in Biodiversity Conservation and Management from Imperial College, University of London, and an BA in Economics and Philosophy from the University of Leeds. He guest lectures on Natural Capital at the the Free University of Amsterdam and Wageningen University.
On 13th July 2016, The Natural Capital Coalition launched a standardized framework for business to identify, measure and value their impacts and dependencies on natural capital. This 'Natural Capital Protocol' has been developed through a unique collaborative process; a World Business Council for Sustainable Development consortium led on the technical development and an IUCN consortium led on business engagement and piloting. The Protocol is supported by practically focused 'Sector Guides' on Apparel and Food & Beverage produced by Trucost on behalf of Coalition.
Keep up to date with our series on natural capital here.